Ag Benchmarking Could Grow Your Profits
---
---
Looking for a way to increase the profits in your farm operation? Benchmarking may be the solution. By comparing your operation against others, you can discover what you are doing well and areas where you can improve to see better results.
What is Ag Benchmarking?
Benchmarking is the process of comparing your farm's individual operating statistics, financial condition, and performance against other similar farming operations.
Benefits of Ag Benchmarking
You need facts and figures to make informed business judgments. Ag benchmarking provides you with a better understanding of your farm. Rather than just making assumptions, you will know how it is operating compared to others, which will allow you to build strategies to increase performance.
There are plenty of other benefits including:
Develops a technique to discover excessive expenses and inefficiencies.
Identifies your strengths and weaknesses.
Helps with decision-making for cost-cutting and value-adding to your profits.
How to get started in Benchmarking
FINBIN is one of the largest and most accessible sources of farm financial and production benchmark information in the world available for anyone to use. Visit the site finbin.umn.edu for more information.
For instructions on how to get started using FINBIN, visit: https://finbin.umn.edu/Home/GetStarted
Financial Ratio Benchmark Sample
The below chart is an example of a dairy farm that has gross revenues above $2 million. Within FINBIN you can generate a report that matches closely to your farming enterprises and other filters to establish your peer group. Remember the statistics are based upon an accrual income statement. It is imperative to use accrual income statements and not cash statements (such as tax returns) to compare results. Adjustments made for decreasing payables and increasing inventories can and should affect your profitability on accrual statements. A strong agricultural bank such as Security Financial Bank can help you complete an accrual income statement if you need assistance.

Production Benchmark for Dairy Herds of 200-500 Cows
With detailed enterprise records for your operation, you can simply highlight where your farm falls within the benchmarks for comparison with 68 other dairy farms with 200-500 cows within the FINBIN record-keeping system. With these records at your disposal, you can make informed decisions to improve your operation and remain profitable long term.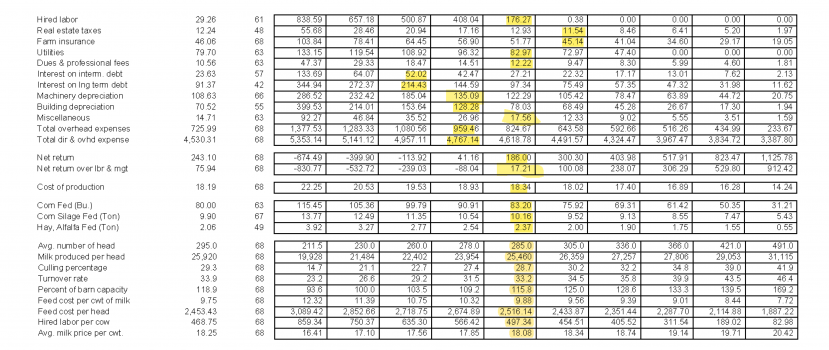 To create reports specific to your operation, visit FINBIN | The Farm Financial Management Database (umn.edu).


With more than 30 years in the banking industry, Duane Johnson has extensive experience in financing large cash grain operations, cattle feedlots, dairy expansion projects, and hog contract finishing barns. He received a degree in agricultural business administration from the University of Minnesota. To reach Duane, call 715-670-0734 or email djohnson@sfbank.com.